BBC: Jodie Foster and Michael J Fox lead anti-Trump protest
Jodie Foster and Michael J Fox have led an anti-Donald Trump protest two days before the Oscars in Los Angeles.
The United Voices rally was staged by Hollywood's United Talent Agency instead of its usual pre-Oscars party.
Foster, a double Oscar winner, said she rarely spoke out in public but that it was now "time to show up".
Back to the Future star Fox told the crowd "we are the lucky ones" and that he wanted to "share a bit of that luck" with refugees who want to enter the US.
"I believe that when so much good has been done unto you it's natural to feel a sense of civic or even global responsibility," he told the Beverly Hills rally.
I consider myself an optimist and that can be a tall order at times for me personally, and more as I see a growing intolerance and lack of compassion and empathy in the world around us.
"But one's dignity may be assaulted, it may be vandalised, it may be cruelly mocked, but it can never be taken away unless it's surrendered."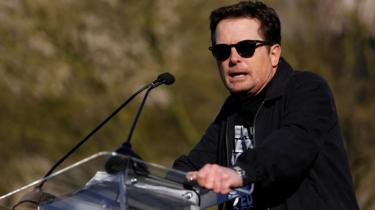 The Canadian-born star, who became a US citizen two decades ago, showed only relatively small signs of the Parkinson's Disease he has lived with since 1991.
He added that he believed "in the power of the arts to change not just our hearts but the world".
You may also like...
Photos: Akufo Addo Donates
Photos: SOSA Surprises SOGASCO
Photos: T.B Joshua Donates